How to Make Custom-Fit Bras & Lingerie
by Don McCunn
The Concept of the Bust Sling Bra
The conventional bra is based on a cantilever concept where the weight of the breast is supported by the band around the rib cage. The Bust Sling Bra changes the support structure to a suspension style that follows the natural contours of the body.
This style bra has been developed in large part to provide support and comfort for women requiring larger cup sizes. The model in the photos below was instrumental in the development of this bra as an initial fitting model then as a field tester. She wears an "H" cup in an conventional bra.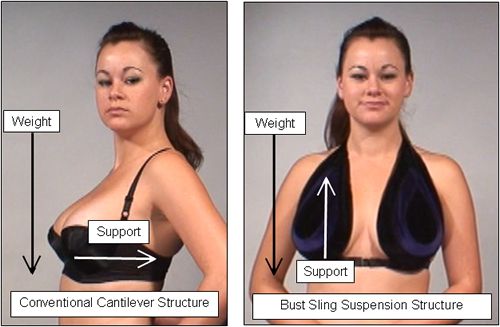 The back of the Bust Sling Bra can be styled to optimize the comfort and design aesthetic of the wearer. For example, the back support can be: a halter neck; "X" back; or racerback to mention a few.
Because the structure of this bra provides support by following the natural contours of the body it can be used to create garments with built in support that require no additional undergarment. This approach also eliminates the need for underwires. Some women have found it is a particularly effective design for nursing bras. It is an open design concept that can be used to create garments for women of all ages.
---