The model shown in these photos is an avid swimmer who works out under a swim coach up to three times a week swimming approximately 2 miles a session.
When I first started working with her she told me while she frequently modeled bikinis she was unable to wear a commercial bikini to swim in. She wears a "DD" cup in a commercial bra. Her solution was to wear an athletic bra swim top.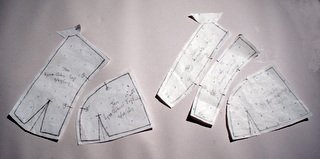 I wanted to address the challenge of making her a swim top that she would look great in and still be able to wear during her extreme swim sessions. The solution was to add additional shaping at the rib cage. For the swim top on the left, I did this by adding darts at the rib cage on either side of the princess seam.
After seeing the swim top on my model, I decided to further modify the look by converting the dart on the left to a second seam that would run parallel to the Princess Seam. This is the shaping for the other two swim tops. I find when a dart starts to have a significant width, it can be best to convert it to a seam.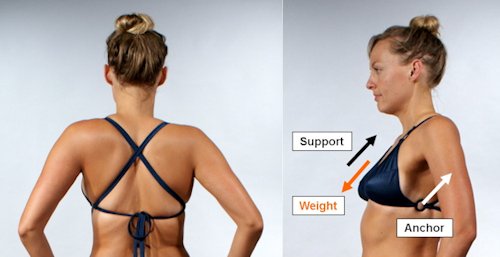 My model finds the structure of the "X" Back gives her good support while still remaining comfortable with even these narrow straps. As you can see from the photo above, the downward weight of the breast tissue is supported up and over the shoulder, across the back, and anchored directly where the weight wants to pull the top down.
If you look closely at the photo and the pattern for the three piece top, you will see we discovered that the swim top needed to be extended even further at the side of the rib cage to give her better coverage for the other two swim tops.